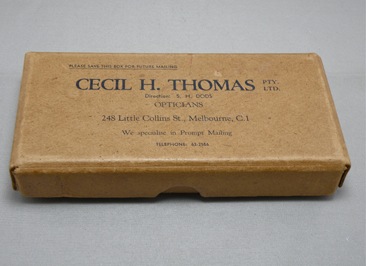 Post box for Cecil H Thomas, Optician
Category:
Memorabilia and ephemera
Time Period:
1940 to 1999
Description Of Item:
Buff-coloured cardboard 2-section post box. Printed on front 'PLEASE SAVE THIS BOX FOR FUTURE MAILING/ CECIL H. THOMAS PTY LTD/ Direction: S. H. DODS/ OPTICIANS/ 248 Little Collins St., Melbourne, C.1/ We specialise in Prompt Mailing/ TELEPHONE: 63-2556'. 175 x 80 x 25mm.
Historical Significance:
Cecil H Thomas was registered in 1936 (No 167) and practising at 248 Little Collins Street at that date (1911-1936). S H Dods (Registered No 236) was employed by C H Thomas 1929-1930 and also July 1932-1936.
How Acquired:
Donated by Michael Aitken
Location:
Archive room. West wall. Unit 2 Drawer 2