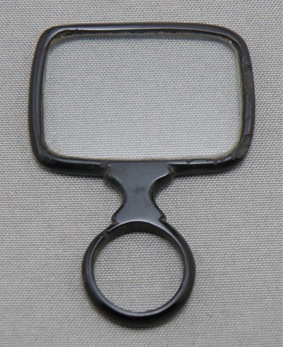 Category:
Spectacles and lenses
Sub-Category:
Monocles, quizzers
Year Of Publication/Manufacture:
1820-1850
Description Of Item:
Small rectangular quizzer, tortoise shell rim with ring handle. Glass lens of -0.84 Dioptres. Lens scratched in corner '8'. Size 33mm x 47mm.
Historical Significance:
Ref: Item Z274, page 45, 'An atlas of the history of spectacles', Poulet, William 1978. Kett Museum No 984.
Location:
Archive Office. Spectacles cabinet Drawer 4