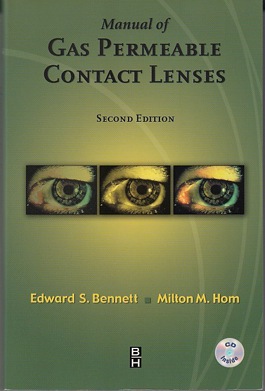 Manual of Gas Permeable Contact Lenses
Sub-Category:
Efron Collection
Editor:
Bennett ES, Hom NM.
Year Of Publication/Manufacture:
2004
Place Of Publication/Manufacture:
St. Louis, USA
Publisher/Manufacturer:
Elsevier Science
Description Of Item:
Colour printed pictorial stiff paper wrappers, 230 x 145 mm, 517 pages, black and white pictures in text, index. Instructional CD enclosed inside back cover.
How Acquired:
Donated by Nathan and Suzanne Efron
Location:
Nathan Library. Efron Collection