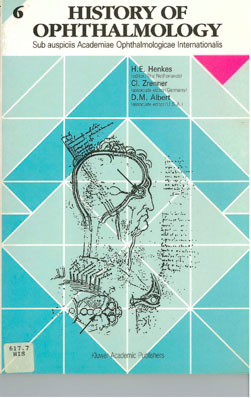 History of ophthalmology 6
Sub-Category:
Hewett collection
Editor:
HENKES Harold E, ZRENNER C I, ALBERT D M
Year Of Publication/Manufacture:
1994
Time Period:
1940 to 1999
Place Of Publication/Manufacture:
Dordrecht, The Netherlands
Publisher/Manufacturer:
Kluwer Academic Publishers
Description Of Item:
Paperback, 223 pages plus 2 pages of book advertisements, illustrated throughout the text with black and white photographs. Contents on the back cover.
Historical Significance:
This is volume 6 of a series published 1988 to 1993 and is reprinted from Documenta Ophthalmologica Vol 86 (2) 1994. It comprises 9 papers on diverse subjects including the invention of the ophthalmoscope in which it is documented that Purkinje developed an ophthalmoscope in 1823 well before Helmholtz. The papers are Prominent ophthalmologists who suffered from acute glaucoma Frederick C. Blodi Pages 111-122 , Vision and cognition in the natural philosophy of Albert the Great (Albertus Magnus) Peter Theiss, Otto-Joachim Grusser Pages 123-151, Further studies by Christoph Scheiner concerning the optics of the eye F. Daxecker Pages 153-161, On the invention of the ophthalmoscope Robert Weale Pages 163-166, D.B. Kagenaar and the ophthalmometer by Javal-Schi?tz I. Den Tonkelaar, G. K. Van Leersum, H. E. Henkes Pages 167-171, A contribution to the history of spectacles in Croatia Vjekoslav Dorn Pages 173-189 , Pissarro, dacryocystitis, and the development of modern lacrimal surgery James G. Ravin Pages 191-202, Didymus the Blind: An unknown precursor of Louis Braille and Helen Keller, John Lascaratos, Spyros Marketos Pages 203-208, Further ophthalmological information on Byzantine chroniclers and historians J. Fronimopoulos, J. Lascaratos Pages 209-223.
How Acquired:
Ex Nathan Library
Condition:
Good, except for library stickers
Location:
Nathan Library. Hewett collection