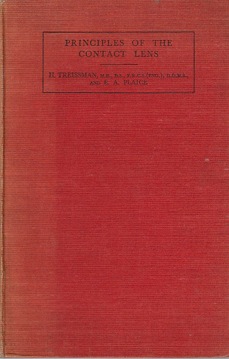 Principles of the Contact Lens
Sub-Category:
Efron Collection
Author:
Treissman H, Plaice EA.
Year Of Publication/Manufacture:
1946
Time Period:
1940 to 1999
Place Of Publication/Manufacture:
London, UK
Publisher/Manufacturer:
Henry Kimpton
Description Of Item:
Original red cloth covers, 240 x 155 mm, 88 pages, black and white figures in text. Rubber stamp MARTON LIBRARY on front fly leaf and back past down. Signature in ink of H. B. Martin on back paste down
Historical Significance:
This book by H. Treissman MB BS, FRCS (Eng) DOMA with E A Plaice (with no qualifications given) is an early book on contact lenses, being published in 1946. It deals with scleral lenses, but gives emphasis to the 'individually fitted or moulded lens' as devised by Dr Josef Dallos. The first author was honorary ophthalmic surgeon at the King Edward Memorial Hospital, Ealing. The authors claim their book is the first in the UK on the subject but in fact it was published in the same year as Dickinson and Clifford Hall 'An introduction to the prescribing and fitting of contact lenses' (See Cat No 176 ). Treissman's book was not well reviewed in JAMA 1947; 38(6):849, which found it slight in size and content and not worth the price. The previous owner H. B. Marton FBOA(Hons), DOrth was a well known British optometrist who published articles in Br J Physiol Optics and Optom Vis Sci and some of his articles were reprinted in Aust J Optom. PubMed list 10 of his publications published between 1945 and 1966 . He gave the Owen Aves Memorial Lecture in 1952 and a memorial lecture was established in his name.
How Acquired:
Donated by Nathan and Suzanne Efron
Location:
Nathan Library. Efron Collection