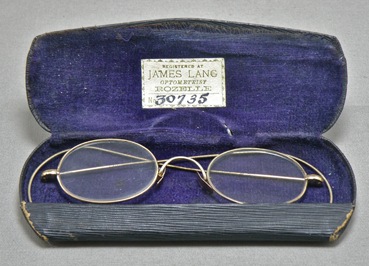 Gold oval-eye spectacles with flat lenses in metal snap case
Category:
Spectacles and lenses
Sub-Category:
Spectacles with case
Year Of Publication/Manufacture:
c 1920
Time Period:
1900 to 1939
Description Of Item:
Gold-filled oval-eye spectacle frame, 110 x 30 mm, with metal pad bridge and curl sides, glazed with flat glass lenses, right and left +2.00 D Sph. Left nosepad stamped '8CtF'. Approximate frame size 38/18. The spectacles are contained in a metal snap case, 125 x 48 mm, covered in grained black fabric and lined with violet velvet, the base of which is gold stamped ' ALEX HALE / Qualified optician / 268 Pitt St. / SYDNEY '. A paper label is affixed inside the lid of the case reading ' REGISTERED AT / JAMES LANG / OPTOMETRIST / ROZELLE / NO 30735. Rozelle is an inner suburb of Sydney.
Historical Significance:
Alex Hale, the supplier of these spectacles, was a Sydney optometrist who employed Brian Layland (b 1930) as a optical apprentice c 1945 before he (Layland) completed his schooling and qualified as an optometrist at the Sydney Technical College, and was later to become an outstanding leader of the profession (See Clin Exp Optom 2003; 86: 260-264). The label inside the case, which is for James Lang, optometrist, is intriguing. James Lang might be the brother of the notorious Jack (J.T.) Lang (1876-1975), Premier of New South Wales 1925-1927 and 1930-1932. Jack Lang's father, James Henry Lang, was a jeweller and had three sons (See Dictionary of Australian Biography Jack Lang entry), one of whom may have followed in his father's footsteps since many jewellers were also opticians in the early years of the 20th century. The label is intriguing also that James Lang is styled as an optometrist, a nomenclature that was first used in Australia in 1905 but did not come into common use until the 1950s (and indeed Alex Hale did not style himself as an optometrist on this case). The style of these spectacles with flat lenses suggests a date of about 1920. Meniscus lenses came into common use between 1910 and 1920. The label suggests that Alex Hale acquired the practice of James Lang, optometrist, including Lang's register of patients, which Hale continued to use.
How Acquired:
Donated by Ivy Green, Coogee NSW
Condition:
Spectacle frame good, case fair
Location:
Archive Office. Spectacles cabinet Drawer 1