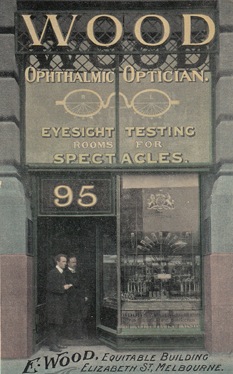 Postcard for E. Wood, ophthalmic optician, Melbourne
Sub-Category:
Photograph Buildings
Photographer:
NIVEN Francis Wilson
Year Of Publication/Manufacture:
c 1908
Time Period:
1900 to 1939
Place Of Publication/Manufacture:
Melbourne
Publisher/Manufacturer:
F. W. N. and Co
Description Of Item:
Unused colour printed advertising postcard, 135 x 85 mm, with photographic picture of the shop front of E. Wood ophthalmic optician of 95 Elizabeth Street, Melbourne bearing the words ' E. Wood, Equitable Building / Elizabeth St, Melbourne '. On the back in pale orange print are the makers details ' Printed by F. W. N. & Co Melbourne ' with the usual layout for a postcard.
Historical Significance:
E. Wood was an early ophthalmic optician in Melbourne. The practice was founded in 1886 but had antecedents with a practice in Liverpool established in 1817 and also one in Manchester. (see title page of brochure for this information Cat No. 3165). Successors of E. Wood included: (1) W. P. (William George Percy) Wood who is listed as a foundation member of the Victorian Optical Association in 1911 at the address of Equitable Buildings Elizabeth St City (but E. Wood is not). WP Wood's father was William Wood, he married Ellen Mary nee Cocks, and died 1949. The Victorian Register of Opticians for 1936 (see Cat No 888) lists him. He obtained the FBOA (Fellow of the Briish Optical Association) in 1903 (See Cat No 2721) (2) William Layton Wood FVOA who was also registered in 1936 for practice at 95 Elizabeth St and (3) Alan John Layton Wood FVOA who is listed on the supplementary register list to May 17 1937 (as a typewritten addendum) practising at the same address. The practice in Melbourne was continued until the 1960s by descendants, Alan and Jack (not an optometrist ?) Wood. The family also owned an optical wholesaler and laboratory, E. Wood and Co, which was taken over by Arthur Cocks and Co in the late 1960s. The company that produced this postcard was founded by Francis Wilson Niven (1831-1905). He was mariner and lithographic printer. He was born in Dublin and educated at respectable schools before going to sea at the age of 13, apprenticed to the captain of the Stebonheath. He obtained his mariner's register ticket on 11 November 1847 and rose to the rank of first mate. While at sea he illustrated sea stories and made model ships. He left seafaring in 1854 and migrated to Victoria with his wife in search of gold. After prospecting with limited success, he decided upon the occupation of printing, specifically lithography, because it suited the artistic disposition. His first known commercial work was assisting with illustrations on Ballarat Punch in 1857. In the 1860s he trained with the lithographic artist Hermann Deutsch in his Bridge Road office where they produced many prints of Ballarat scenes. Deutsch sold him the business between 1863 and 1865. Innovation in lithography was a significant part of the firm's success and in 1873 Niven imported one of the earliest known commercial steam lithographic presses in Australia. F. W. Niven & Co. became a large provincial printing business in Ballarat, at its peak employing seventy hands and having some ?7000 worth of machinery. The firm earned it international recognition for elegantly produced books such as W. B. Withers's History of Ballarat (1887) and The Cyclopedia of Victoria (1903-05). About 1893 they relocated part of their operations to Melbourne in Flinders Street. His colour postcards of nature, city street scenes and local businesses from around Australia are sought after collectibles.
How Acquired:
Donated by Peter Dwyer OAM, member of the College
Condition:
Good (top right hand corner worn)
Location:
Archive office. Pamphlet and ephemera filing cabinet. Drawer 7