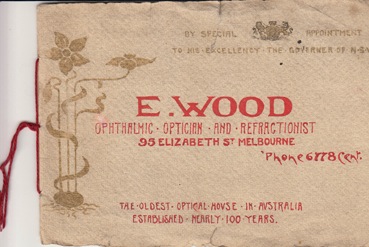 Art work for a brochure for E. Wood, ophthalmic optician, Melbourne
Sub-Category:
Brochure/pamphlet/leaflet (optometry)
Year Of Publication/Manufacture:
c1915
Time Period:
1900 to 1939
Description Of Item:
Original artwork for a promotional brochure for E. Wood, ophthalmic optician, Melbourne, decorated cream covers, 145 x 195 mm, yapp edges to cover, tied by red cotton containing 8 pages including the title page. Each page has hand-printed text giving details of the practice and services offered and ink drawing vignettes of various parts of the practice. The front cover reads' ' BY SPECIAL APPOINTMENT TO THE GOVERNOR OF NSW (with the British coat of arms) / E. WOOD / OPHTHALMIC . OPTICIAN . AND . REFRACTIONIST / 95 ELIZABETH ST MELBOURNE / PHONE 6778 CENT. / THE . OLDEST . OPTICAL . HOUSE . IN AUSTRALIA / ESTABLISHED . NEARLY . ONE . HUNDRED . YEARS.
Historical Significance:
E. Wood was an early ophthalmic optician in Melbourne. The practice was founded in 1886 but had antecedents with a practice in Liverpool established in 1817 and also one in Manchester. (see title page of this brochure for this information). Successors of E. Wood after whom the practice is named included (1) W. P. (William George Percy) Wood who is listed as a foundation member of the Victorian Optical Association in 1911 at the address of Equitable Buildings Elizabeth St City (but E. Wood is not). WP Wood died 1949, m Ellen Mary nee Cocks, his father was William Wood) The Victorian Register of Opticians for 1936 (see Cat No 888) lists him. He obtained the FBOA Diploma in Dec 1903 (See Cat No 2721) (2) William Layton Wood FVOA who was also registered in 1936 for practice at 95 Elizabeth St and (3) Alan John Layton Wood FVOA who is listed on the supplementary register list to May 17 1937 (as a typewritten addendum) as practising at the same address. The practice in Melbourne was continued by descendants, Alan and Jack (not an optometrist ?) Wood at the 95 Elizabeth Street and later in upstairs premises in the city until the 1960s. The family also owned an optical wholesaler and laboratory, E. Wood and Co, which was taken over by Arthur Cocks and Co in the late 1960s. See postcard Cat No. 3164 for a photograph of the exterior of the practice.
How Acquired:
Donated by Peter Dwyer OAM, member of the College
Condition:
Cover has small edge tears and blemishes. Internally good
Location:
Archive office. Pamphlet and ephemera filing cabinet. Drawer 7