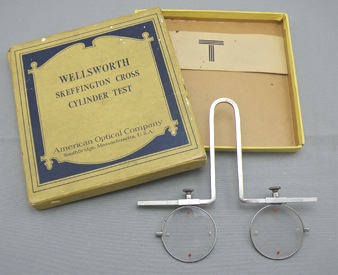 Wellsworth Skeffington Cross Cylinder Test
Sub-Category:
Reading card, tests of near vision
Designer/inventor:
SKEFFINGTON, Arthur Marten
Year Of Publication/Manufacture:
c 1940
Time Period:
1940 to 1999
Place Of Publication/Manufacture:
Southbridge. Mass, USA
Publisher/Manufacturer:
American Optical Company
Description Of Item:
Instrument for measuring accommodative error using binocular cross cylinders, chromed metal frame to which is affixed a pair of cross cylinders which are adjustable for interpupillary distance. The instrument is contained in a yellow cardboard box, 130 x 120 mm, in which is a card with two sets of ruled lines at right angles to each other, which is the test target used in administering this test. The box is labelled WELLSWORTH / SKEFFINGTON CROSS / CYLINDER TEST / AMERICAN OPTICAL COMPANY / SOUTHBRIDGE, MASSACHUSETTS, USA
Historical Significance:
The dynamic cross cylinder test was a commonly used clinical procedure used to assess the accommodative response subjectively. Astigmatism is induced with the crossed cylinder lenses, and the patient's subjective response to a rectilinear target indicates whether a lead or lag of accommodation exists. Spherical lenses are introduced during this subjective technique to quantify the accommodative error. The test seems attributable to US optometrist Arthur Skeffington. Arthur Marten Skeffington (1890 - 1978) was an American optometrist known to some as "the father of behavioral optometry". Skeffington has been credited as co-founding the Optometric Extension Program with E.B. Alexander in 1928. The OEP devised and promoted a 21 point technique for the evaluation of binocular function and this test was one of the 21 tests. This approach was popular among many optometrists in the USA, although it was regarded sceptically by those who were more academically inclined and looked for a solid theoretical and evidence foundations for clinical tests. More information on this test can be found in The Skeffington perspective of behavioral model of optometric data analysis and vision care by Earl P Schmitt 2006.
How Acquired:
Purchased by Kett Optometry Museum
Condition:
Slight rusting of the screw mechanism. The box is distressed at its corners of both the base and top
Location:
Archive room. West wall. Unit 2 Drawer 2