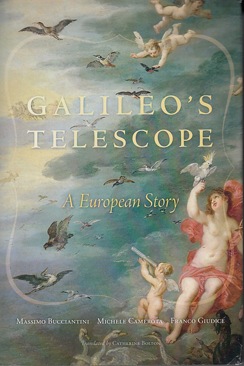 Galileo's telescope. A European story
Sub-Category:
Hewett collection
Author:
BUCCINATINI B, CAMEROTA M, GIUDICE F (translated by Catherine Bolton)
Year Of Publication/Manufacture:
2015
Edition:
1st English edition
Place Of Publication/Manufacture:
Cambridge, Mass, USA
Publisher/Manufacturer:
Harvard University Press
Description Of Item:
Original pictorial dust wrapper, original blue and white boards, 242 x 160 mm, 340 pages, illustrated with 25 black and white illustrations through text, 8 colour plates after page 180 and 5 maps, section for numerous notes, bibliography and index.
Historical Significance:
The telescope was invented in the Netherlands in 1608 by lens maker/optician Hans Lippershey and quickly proved to be a transformative world event in which Galileo played an important and dramatic role as new understanding of the universe emerged from telescopic observations. Among many other matters the telescope accelerated progress on lens design and quality, which had beneficial effects for spectacle lenses. This book, originally published in Italian in 2012 tells the story that impacted mightily on science, politics, religion and the arts. See other books on the telescope in the Hewett collection Cat nos. 1098, 1101, 1559, 1977, 1979. 2028, 2182 and 2333.
How Acquired:
Purchased by Kett Optometry Museum
Condition:
Very good. Corners slightly bumped
Location:
Nathan Library. Hewett collection