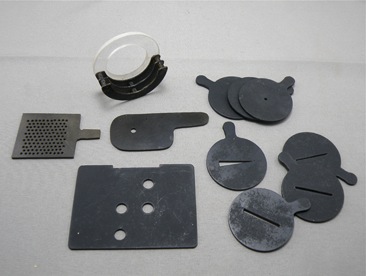 Collection of Pinholes and Stenopaic Slits
Sub-Category:
Contact lens equipment
Designer/inventor:
John Strachan
Time Period:
1940 to 1999
Place Of Publication/Manufacture:
Melbourne
Description Of Item:
Set of seven black fibreboard discs 38 mm diameter, 1 m thick with handles, three with pinholes (0.5, 1.0, 1.5 mm), three with slits 24.5 mm long (0.5, 1.0, 1.5 mm) and one with a tapered slit (4 mm to 0 mm). One multi pinhole square (38 mm x 38 mm) with handle. One rounded rectangular (28 x 40 mm) with handle and 4 mm aperture. One black metal plate 70 x 52 mm with four 6 mm apertures. One piece of fibreboard 50 x 43 mm with glue spots one three corners. One 2 cell trial lens holder glued on to a clear perspex annulus external diameter 46 mm and internal diameter 28 mm.
Historical Significance:
These items are thought to be part of equipment used by John Strachan, one of Australia's pioneers in contact lenses in the period 1953 to 1975. He qualified in optometry at the Australian College of Optometry in 1949 and soon after trained in contact lenses in London. He set up practice in the Melbourne CBD in 1953 specialising in contact lens fitting. He fitted scleral lenses using the Dallos moulding technique. He was an inventive person and often adapted known techniques to the task of contact lens design and manufacture. These pieces were most likely used in a more complicated apparatus used to manufacture or measure contact lenses. He published seven papers in Aust J Optom on contact lenses between 1962 and 1976.
How Acquired:
Donated by John Strachan
Date Acquired:
19-05-2104
Location:
Archive room. West wall. Unit 6 Drawer 5