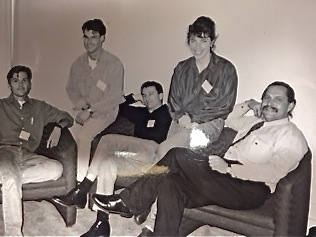 Organisers of the Southern Regional Conference 1993
Sub-Category:
Photograph People and events
Year Of Publication/Manufacture:
1993
Time Period:
1940 to 1999
Place Of Publication/Manufacture:
Melbourne
Description Of Item:
Digital black and white photograph (jpg, 320 x 240 pixels, 72 dpi, 225 kb, of (from left) Colin Madigan, John Bartlett, Mark Roth, Judith Abbott and Algis Vingrys. (Donor has promised to provide a high resolution copy)
Historical Significance:
This photograph is believed to have been taken at the 1993 Southern Regional Conference held at the Carlton Radison, Queens Road, Albert Park, and pictures the conference organisers relaxing at the end of the conference. The Southern Regional Conference was the first regular continuing education conference for optometry in Australia. It was originally organised by the Australian College of Optometry (then known as the Victorian College of Optometry) and Optometry Victoria (then the Australian Optometrical Association Victorian Division). The first SRC was held in 1963 and then every two years until 1975 when the ACO decided to concentrate on monthly seminars, short courses and workshops held throughout the year as its preferred continuing education model. The SRC was revived by Optometry Victoria as its own event and did so with great success, especially under the leadership of John Bartlett, a councillor of the Association and later, in 1994, its President. The 1993 conference gave emphasis to ocular therapeutics because at the time the Association was engaged in securing legal rights for optometrists to use Schedule 4 therapeutic drugs and also promoting this change of scope of optometric practice to members of the profession. The picture shows four of the people who were very active in leading this very significant change, namely Bartlett, Roth, Abbott and Vingrys. Algis Vingrys was a senior academic in the Department of Optometry and Vision Sciences at the University of Melbourne, later appointed Professor and serving a term as Head of the Department. See also Cat no. 3174 and also Chapter 13 of Cole BL. A history of Australian Optometry. 2015 for more detail about the therapeutics story.
How Acquired:
Donated by Peter Dwyer OAM, Melbourne optometrist
Location:
Archive computer iPhoto