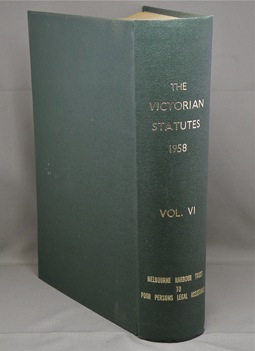 The Victorian Statutes 1958, The General Public Acts of Victoria Vol. VI
Sub-Category:
Book of historical note
Government body:
Government of Victoria
Year Of Publication/Manufacture:
1958
Time Period:
1940 to 1999
Place Of Publication/Manufacture:
Melbourne
Publisher/Manufacturer:
A C Brooks, Government Printer
Description Of Item:
Green hardcover book 274 x 188 x 60 mm of 1155 pages conaining Victorian statutes from Melbourne Harbour Trust Act 1958 to Poor Persons Legal Assistance Act 1958. It contains the Opticians Registration Act on pages 805-818.
Historical Significance:
The Victorian Statutes 1958 is a compilation of Victorian Acts of Parliament. The Opticians Registration Act 958 is a revised version of the original Act of 1935 by which opticians (optometrists) were first registered. Section 8 of the original Act has been omitted and there are changes to the original Act to reflect the fact that registration had been in force for 23 years.
How Acquired:
Donated by Scouts Victoria
Location:
Archive office. East wall shelves unit 3