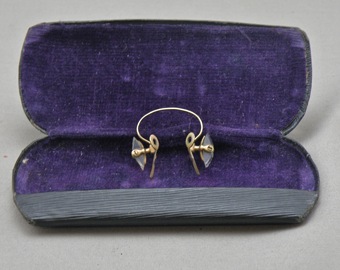 Gold rimless Pince-nez bridge in metal case
Category:
Spectacles and lenses
Year Of Publication/Manufacture:
c1900
Time Period:
1900 to 1939
Description Of Item:
Gold coloured metal alloy spring bridge pince-nez with ribbed fixed gold nose pads. Centre of bridge stamped 'e 22'. Remnants of flat lenses in clamps. Black fabric covered snap case 110 x 48 x 11 mm, lined with blue velour is stamped SYMCO with an arrow through it on the rear right surface.
How Acquired:
Donated by Wayne Lyons, optical dispenser, Malvern Optical Clinic
Date Acquired:
28-11-2016
Location:
Archive Office. Spectacles cabinet Drawer 9