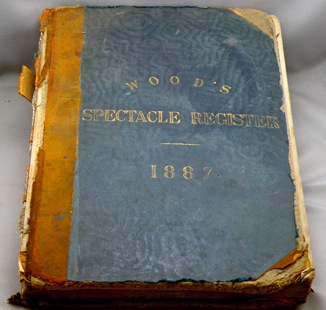 Wood's spectacle register 1887
Sub-Category:
Patient examination record
Practice/Business:
E. Wood, opticians
Year Of Publication/Manufacture:
1887
Place Of Publication/Manufacture:
Melbourne
Publisher/Manufacturer:
William Detmold, Account Book Manufacturer and Book Binder
Description Of Item:
A large ledger, 390 x 280 mm, cloth bound with gold lettered title 'Wood's spectacle register 1887' on the front cover indicating the ledger was purpose made. A card pasted inside the front cover identifies the manufacturer of the ledger. There are approximately 130 double (facing pages). The pages are purpose designed with columns headed to record each patient's record number (stamped by an auto numbering machine), the date of the visit, the patient's name and address, the frame supplied, the power of the lenses prescribed, the price and the purpose which the glasses were to be used. The first record is dated June 6 1887 and the last is dated January 4 1894. Pasted on the front fly leaf is a list of the names and addresses of 7 doctors dated 29/8/92. There is a price list on the first page,Tipped in is (1) an incomplete hand-written alphabetical list of patients cross referenced to the register by the patient number, and (2) a copy of an advertisement for E. Wood Ophthalmic Opticians on which there is a hand-written note stating that it was copied from Allans Catalogue of Vocal and Instrumental Music of June 1891.
Historical Significance:
E. Wood was an early ophthalmic optician in Melbourne. The practice was founded in 1886 but had antecedents with a practice in Liverpool established in 1817 and also one in Manchester. (see title page of the brochure at Cat no 3165 for this information). Successors of E. Wood after whom the practice is named included (1) W. P. (William George Percy) Wood who is listed as a foundation member of the Victorian Optical Association in 1911 at the address of Equitable Buildings Elizabeth St City (but E. Wood is not). The Victorian Register of Opticians for 1936 (see Cat No 888) lists William George Wood and records he obtained the FBOA Diploma in Dec 1903 (See Cat No 2721) (2) William Layton Wood FVOA who was also registered in 1936 for practice at 95 Elizabeth St and (3) Alan John Layton Wood FVOA who is listed on the supplementary register list to May 17 1937 (as a typewritten addendum) as practising at the same address. The practice in Melbourne was continued by descendants, Alan and Jack (not an optometrist ?) Wood at 95 Elizabeth Street and later in upstairs premises in the city until the 1960s. The family also owned an optical wholesaler and laboratory, E. Wood and Co, which was taken over by Arthur Cocks and Co in the late 1960s. See postcard at Cat No. 3164 for a photograph of the exterior of the practice. It is noteworthy that the ledger shows (1) up to 10 patients were seen on a day (e,g, 30/8/1893) and (2) that cylindrical lenses were prescribed for most patients seen in 1887 but very rarely in the period from December 4 1887 to December 19 1889. The list of doctors pasted on the front fly leaf are probably oculists who prescriptions the practise dispensed. Each name has a number against their names with a date 29/8/92.
How Acquired:
Donated by Peter Dwyer OAM, Melbourne optometrist and member of the College
Condition:
Spine binding badly distressed but internal pages and content is generally tidy NOTE 7/5/2018 The ledger biinding has now been professionally repaired and is stored in a custom-built cardboard box.
Location:
Archive office. East wall shelves unit 3