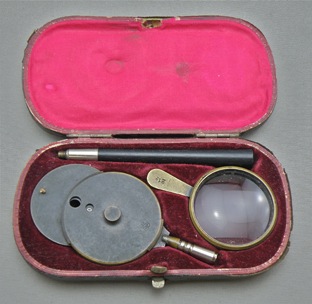 Haab non-luminous cased ophthalmoscope
Sub-Category:
Ophthalmoscope
Designer/inventor:
Otto Haab
Year Of Publication/Manufacture:
c1890
Description Of Item:
Cased non-luminous Haab ophthalmoscope, including original head, handle and condensing lens. Black head with Rekoss disc of 14 lenses and one open aperture. Rear of head has tilting bitruncated mirror. Manufacturer's scrolled design mark. Tapered ebony handle with threaded mount. Biconvex condensing lens in brass mount with handle impressed '2 1/2', ie focal length of 2.5 inches, approximately 16D. Hinged leather-covered fitted case with snap closure and lined with red satin and velvet. Case: 119 x 63 x 22 mm. Instrument: 167 x 42 x 13 mm.
Historical Significance:
Ref: Haab, Otto: Atlas and Epitome of Ophthalmoscopy and Ophthalmoscopic Diagnosis. First published 1897. This design of ophthalmoscope is shown on page 62 and designated as the 'Author's ophthalmoscope'. Page 66 records that Haab had this design of instrument made by R. Doerffel in Berlin, at such a moderate price that Haab felt justified in advising every student to buy one. He further recommended the ophthalmoscopes of Loring and Jackson. See Cat Nos 737, 783 & 2253.
How Acquired:
Purchased by Kett Optometry Museum
Location:
Archive Office. Cabinet One Drawer 10