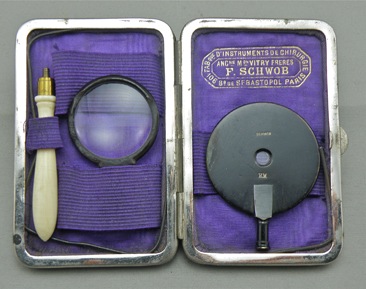 Schwob cased non-luminous ophthalmoscope
Sub-Category:
Ophthalmoscope
Year Of Publication/Manufacture:
c1895
Place Of Publication/Manufacture:
Paris, France
Publisher/Manufacturer:
Fernand Schwob
Description Of Item:
Cased non-luminous ophthalmoscope, including original head, handle and condensing lens. Head has simple mirror with central aperture, black finish, white imprints 'SCHWOB' and 'H.M' (?Hopital Militaire). Turned bone handle with brass threaded mount. Biconvex condensing lens, 17DS, in chipped tortoiseshell rim. Hinged leather-covered fitted case, impressed on outside '557'. Case interior lined with purple velvet and fitted with purple elastic.Gilt lettering on case interior: 'F. SCHWOB/ ANCne Mon VITRY FRERES/ FABque D'INSTRUMENTS DE CHIRURGIE/ 106 Bd de SEBASTOPOL PARIS'. Case: 99 x 65 x 15 mm. Instrument: 122 x 46 x 10mm.
Historical Significance:
This is a rare item. The date on which the house of Vitry Freres was bought by Fernand Schwob is unknown. Address: 106 Boulevard Sebastopol, Paris. Factory at Nogent-en-Bassigny. A catalogue of 1896 of Surgical Instruments and Cutlery Wholesale is known. Ref: Les fabricants francais de materiels medicaux, Jean-Pierre Martin, 2016.
How Acquired:
Purchased by Kett Optometry Museum
Location:
Archive Office. Cabinet One Drawer 10