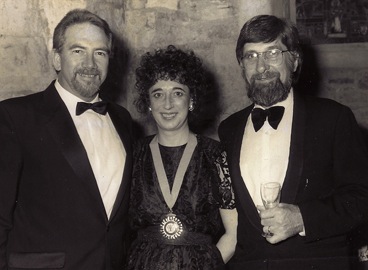 Brien Holden, Judith Morris and Ian Bailey
Sub-Category:
Photograph People and events
Year Of Publication/Manufacture:
April 1990
Description Of Item:
Monochrome digital image, 1478 x 1088, 72 dpi. 4.8 mb, of Professor Brien Holden of the University of NSW, Ms Judith Morris, then President of the College of Optometrists UK, and Professor Ian Bailey, from the University of California at Berkeley taken at the 10th anniversary conference of the College of Optometrists.
Historical Significance:
Both Brien Holden and Ian Bailey are graduates in optometry of the Australian College of Optometry and the University of Melbourne. Brien Holden (1943-2015) did his PhD at the City University in London and became a lecturer in the University of NSW. He established the Cornea and Contact Lens Research Unit, which he used as the foundation for two generously funded Centres of Excellence, the Co-operative Research Centre for Eye Research and Technology succeeded in 2001 by the Centre for Vision Research. In addition to leading these two very large research centres, Brien has also pursued a social agenda to prevent blindness by founding the Institute for Eye Research now named the Brien Holden Vision Institute. He was a much honoured world figure in the fields of contact lenses and prevention of blindness. The University of NSW appointed him professor in 1990 and Scientia professor in 2001. Ian Bailey (1943 -) graduated in optometry in 1962. He was in the second cohort of students to complete the new degree course. He became a lecturer and clinic administrator in the Victorian College of Optometry in 1968. In that position he set up the first multidisciplinary low vision clinic in Australia with the Association for the Blind in 1972. He was then appointed the first full-time researcher in the National Vision Research Institute in 1974 where, with Jan Lovie, he invented the LogMAR visual acuity chart. This was the foundation on which he became a world leader in low vision.
How Acquired:
Donated by Ian Bailey, honorary life member of the College
Location:
Archive computer iPhoto