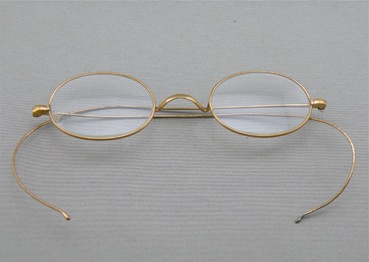 Gold oval eye spectacles glazed with plano-convex lenses
Category:
Spectacles and lenses
Sub-Category:
Spectacles (with lenses)
Year Of Publication/Manufacture:
c 1930
Time Period:
1900 to 1939
Description Of Item:
Small gold oval eye frame 38/22 with saddle bridge stamped NONZOL and thin curl sides. Lenses +2.50 R and L.
Historical Significance:
Nonzol spectacles would appear to be readymade and sold in the 1930s. An advertisement by Newcastle Mont De Piete on page 1, column 3, 2/3 down, of the Newcastle Herald and Miners Advocate (NSW) May 8 1930 indicates this - 'Selling Fast Nonzol and Nikol high grade fitted spectacles. Specially reduced to 2/6 pr. for three more days only'.
How Acquired:
Donated by Wayne Lyons Optical Dispenser Malvern Optical Clinic
Date Acquired:
28-11-2016
Condition:
Good. Right lens chipped. Right temple end-piece missing
Location:
Archive Office. Spectacles cabinet Drawer 1