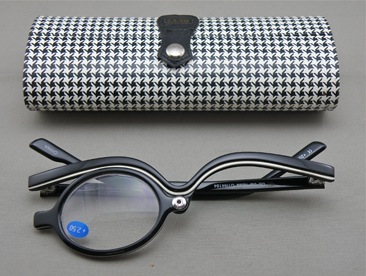 On The Nose make up spectacles and case
Category:
Spectacles and lenses
Sub-Category:
Spectacles, reversible
Corporation:
Symons and Co. Pty. Ltd.
Year Of Publication/Manufacture:
c 2000
Place Of Publication/Manufacture:
China
Publisher/Manufacturer:
On The Nose
Description Of Item:
Black and white plastic chassis with a centrally mounted plastic rimmed monocular which is able to swivel to position before either eye. Temples are stamped CE +2.50 and www.symonsandco.com and On the Nose OTN 4184 contained in a hard black and white hounds tooth double hinged case with a press stud catch. A +2.50 label is affixed to both the lens and the case catch.
Historical Significance:
These spectacles enable the application of eye make up to one eye by a presbyope while the other is assisted by a plus lens. The owners of On the Nose describe themselves as a team of dedicated forty somethings in various stages of presbyopia. On the Nose manufactures a range of readymade spectacles with powers ranging from +1.00 to +3.50 D.
How Acquired:
Donated by Wayne Lyons Optical Dispenser Malvern Optical Clinic
Date Acquired:
28-11-2016
Location:
Archive Office. Spectacles cabinet Drawer 2