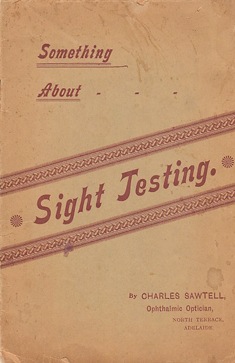 Something about sight testing
Sub-Category:
Significant book (Aitken collection)
Year Of Publication/Manufacture:
c 1900
Time Period:
1900 to 1939
Place Of Publication/Manufacture:
Adelaide
Publisher/Manufacturer:
Wm Page, printer and publisher
Description Of Item:
Booklet; original brown printed paper wrappers, 210 x 140 mm, centre fold stapled, 32 pages. The front cover states the booklet is by CHARLES SAWTELL, ophthalmic optician, North Terrace, Adelaide. Ex Libris bookplate on the inside of the front cover for the National Library of the Australian Optometrical Association THE WRIGHT LIBRARY and the words 'Ex Libris Fred T Wright 1882-1932' and a photograph of Fred Wright. There is a hand-written note in ink underneath the bookplate stating 'Charles Sawtell was the brother of John H Sawtell with whom F T Wright practised c 1916 to 1921' There are a few corrections and underlining and strike-throughs in the text in red ink.
Historical Significance:
Sawtell's was one of Australia's earliest optometry firms. Its founder was Alfred Edwin Sawtell (1817-1902) who was an optician and instrument maker in England. He migrated to Australia in 1852 establishing himself in Divett Street, Port Adelaide as optician, watchmaker, jeweller and instrument maker. He later moved into the heart of Adelaide in Rundle Street. His sons Charles and John succeeded him and relocated to Adare House North Terrace opposite the University of Adelaide. The Sawtell optometric practice would continue for over 130 years. John Sawtell, brother of the author,Charles, was the first chairman of the South Australian Registration Board in 1920 and was issued with Registration certificate No 1. Sawtell's was the first Australian optometry practice to advertise correction of astigmatism in 1880. (South Australian Register of May 1 1880) and in numerous subsequent advertisements, claimed it was the only establishment where astigmatic spectacles can be fitted. (See SA History hub http://sahistoryhub.com.au/subjects/sawtells-nautical-optician for more information). This booklet is a promotion of the author's practice and is a somewhat repetitive and overlong argument for the value of the ophthalmic optician who tests eyes and provides glasses to the measured prescription, in contrast to the medical doctor who knows little about glasses, and on the other hand, the seller of glasses who does not know about eyes. The last several pages deals with the rivalry between eye doctors and optometrists and the author reminds readers that the Sawtell practice supplied compound lenses to correct astigmatism many years before the local eye doctor was willing to acknowledge this form of correction.
How Acquired:
Donated by Optometry Australia (ex the Wright Library)
Condition:
Fragile. Cover detached.(Repaired March 2019) Light soiling on front cover.
Location:
Archive office. Pamphlet and ephemera filing cabinet. Drawer 7