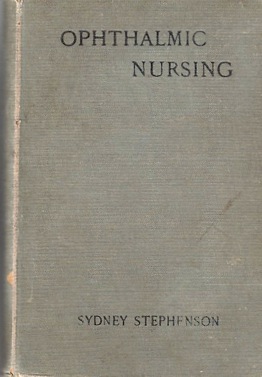 Sub-Category:
Significant book (Aitken collection)
Author:
STEPHENSON Sydney
Year Of Publication/Manufacture:
1902
Time Period:
1900 to 1939
Place Of Publication/Manufacture:
London
Publisher/Manufacturer:
The Scientific Press Limited
Description Of Item:
Original grey cloth cover, 185 x 130 mm, 191 pages of text and 16 pages of book advertisements, 63 black and white illustrations. Ex Libris bookplate on the front paste down for the National Library of the Australian Optometrical Association THE WRIGHT LIBRARY and the words 'Ex Libris Fred T Wright 1882-1932' and a photograph of Fred Wright. Index and an appendix listing ophthalmic surgical instruments and one illustrating them (Figs 36 to 62). A third appendix is a glossary
Historical Significance:
This book was written for the purpose of training hospital ophthalmic nurses and was based on instruction given at the ophthalmic school Hanwell, West London. The first edition of this book was published in 1894 and there was a third edition in 1912. Sydney Stephenson MB CM FRCSE was a London ophthalmic surgeon based in several London Hospitals. He was the founder of the journal 'The Ophthalmoscope' in 1903 until it was incorporated into the Brit J Ophthalmol in 1917. The book gives an insight into surgery and other treatments of eye conditions in the early years of the 20th century. There are two chapters on operations. The illustrations through the text are informative. The Hanwell school in west London was for pauper children. It was a very large and architecturally grand building complex. See http://www.workhouses.org.uk/CentralLondonSD/. There was a Hanwell Ophthalmic School because of the exceptionally high incidence of ophthalmia among the children. In 1962 686 children were affected with some losing the sight of one or both eyes. It was founded in 1890 and could accommodate 300 cases. No wonder there was a need for trained ophthalmic nurses.
How Acquired:
Donated by Optometry Australia (ex The Wright Library)
Condition:
Good although spine and back cover tired
Location:
Nathan Library. Aitken collection