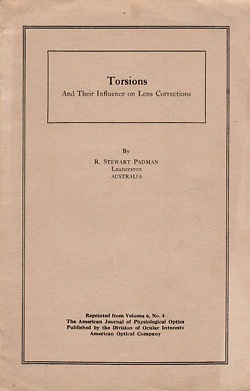 Torsions and their influence on lens corrections
Sub-Category:
Published articles
Year Of Publication/Manufacture:
1925
Time Period:
1900 to 1939
Place Of Publication/Manufacture:
Southbridge, Mass, USA
Publisher/Manufacturer:
Division of ocular interest, American Optical Company
Description Of Item:
Reprint of an article published in Volume 6 issue 4 American Journal of Physiological Optics. buff paper wrappers, 280 x 155 mm, centre-stapled, pages 549-566, 9 figures in text
Historical Significance:
Stewart Padman (1882 ? - 1941) was a highly regarded Tasmanian optometrist practising in Launceston. He was first employed by H. A. Barraclough in Sydney in 1908 where he would have learned a great deal because Barraclough was quick to adopt new ideas and equipment. (See Cole BL History of Australian Optometry). He moved back to Launceston in 1910 where he ran a very professional practice with his cousin Arthur G. Padman and was succeeded by his son Eric Padman, who was a significant leader in the profession (See Cole BL History of Australian Optometry). Stewart Padman is reported as being a reader, thinker and a writer. He had a large professional library: the Kett Optometry Museum holds 32 books owned by him that were donated by the Padman practice and Padman family. He enrolled in 1906 to do the Philadelphia Optical College course by correspondence that required him to answer long lists of questions that were personally corrected by the proprietor of the College. It is not known if he completed this course. He published 28 papers between 1920 and 1938. Surprisingly for the times he also published in overseas journals and this reprint is one example. See his obit Aust J Optom 1941; 24: 283-284.
How Acquired:
Donated by Optometry Australia
Location:
Archive office. Pamphlet and ephemera filing cabinet. Drawer 7