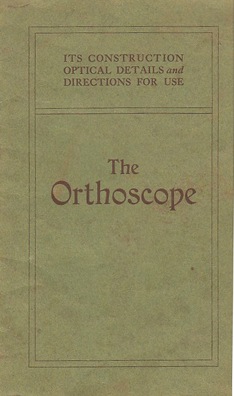 The orthoscope: its construction, optical details and directions for use(for indirect ophthalmoscopy and for retinoscopy)
Sub-Category:
Ophthalmic product manual/instructions
Year Of Publication/Manufacture:
Early 20th century
Time Period:
1900 to 1939
Place Of Publication/Manufacture:
London
Publisher/Manufacturer:
Printed by Sir Joseph Causton and Sons Ltd
Description Of Item:
Green printed paper wrapper, 220 x 140 mm, stapled, 16 pages (last unnumbered), 8 black and white illustrations. Hand-written inscription 'from Phillip J Thomas' on inside of the front cover.
Historical Significance:
Page 1 describes this instrument as an 'automatic combined retinoscope and ophthalmoscope for use by both student and practitioner'. The design principles are described in the text and by three optical diagrams. Neither its designer or manufacturer are identified and the booklet is not dated. The name orthoscope is used for a wide variety or instruments, not all of which are ophthalmic. See Kett Museum Cat nos. 905 and 906 for other combined ophthalmoscope and retinoscope.
How Acquired:
Donated by Optometry Australia
Condition:
Good except for slight soiling on back cover
Location:
Archive office. Pamphlet and ephemera filing cabinet. Drawer 7