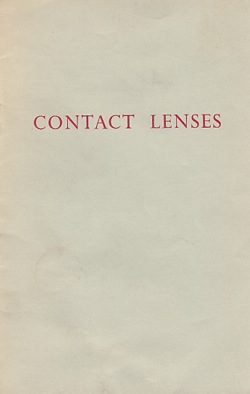 Sub-Category:
Brochure/pamphlet/leaflet (optometry)
:
Anon. A member of the Council of the Contact Lens Society
Year Of Publication/Manufacture:
c 1965
Time Period:
1940 to 1999
Place Of Publication/Manufacture:
London
Description Of Item:
Patient information pamphlet, grey paper wrappers, stapled, 8 pages, no illustrations
Historical Significance:
This item has no named author or publisher and is not dated. It refers to two types of contact lenses, corneal and haptic. There is no mention of soft contact lenses but there is reference to the recent introuction of bifocal contact lenses. A contact address for advice on qualitifed contact lens practitioners is to The Contact Lens Society in London, suggesting this pamphlet has been published by that organisation.
How Acquired:
Donated by Nathan and Suzanne Efron
Location:
Nathan Library. Efron Collection