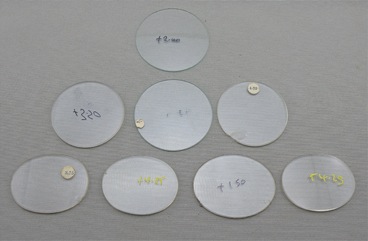 Collection of biconvex and plano-convex lenses
Category:
Spectacles and lenses
Sub-Category:
Spectacle lenses
Year Of Publication/Manufacture:
c 1900
Time Period:
1900 to 1939
Description Of Item:
Six edged biconvex lenses of assorted powers, four oval shaped, two round and two uncut plano-convex lenses, one with focal length labelled in dioptres and inches. Powers range from +1.50 to +4.25
Historical Significance:
Edged lenses were available for immediate fitting to specific frames, the uncut ones would allow selection of any frame and the lenses to be cut to shape.
How Acquired:
Donated by Wayne Lyons Optical dispenser, Malvern Optical Clinic
Date Acquired:
26/11/2016
Condition:
Good. two lenses have small chips.
Location:
Archive office. East wall shelves unit 3. Drawer 8