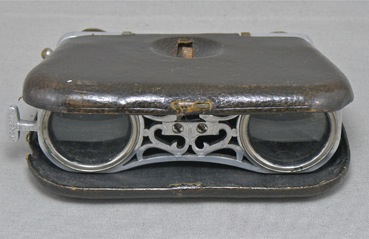 Pocoscope folding opera glasses
Category:
Spectacles and lenses
Sub-Category:
Telescopes, binoculars, opera glasses
Year Of Publication/Manufacture:
1890 - 1935
Time Period:
1900 to 1939
Description Of Item:
Folding opera glasses, metal case, 105 W x 62 D x 19 H when folded, covered by brown leatherette, with a white metal face through which two eyepiece lenses protrude. They can be protected by pivoted metal cover plates. A vertical knurled disc protrudes through slots in both the top and the base of the case is to enable focussing by changing the distance between the eyepiece and objective lenses. There is an eyelet on the eyepiece side for attaching a cord or chain to go around the neck or wrist. The case is opened by a push button clip and a spring erects the paired objective lenses, The objective lenses are joined by a decorative metal bridge. The interior of the case is lined with black leatherette. The case is closed by pressing on a metal T shape on one side of the objective lenses bridge that protrudes outside the case. The T shape is marked ' POCOSCOPE / PATENT ' on one side and ' 5435 ' on the other
Historical Significance:
This item was used by the father of the Melbourne Harber family, which donated this item. He was born in Poland in 1914 where he matriculated. He did his university studies in England and came to Australia in 1937 on what was intended to be a working holiday. As far as the family recalls he had brought the opera glasses with him. It is not known when and how he acquired this item. Folding opera glasses that were designed to be carried in a purse or handbag were made from the 1890s. According to the BOA Museum (Lond) Pocoscope folding opera glasses date from the 1890s. Opera glasses, (theatre binoculars), are compact, low-power optical magnification devices, usually used at performance events, with the name derived from traditional use at opera performances. They have a concave eyepiece and a convex objective lens, which used in combination at opposite ends of a tube result in a magnified, upright image to the viewer. Magnification power is usually below 5? to minimise image shake and provide a large enough field of view. The name 'opera glasses' first appeared in advertisements in the 1730s, but would not now be considered to be opera glasses but were monocular spyglasses. Binocular opera glasses did not occur before 1800. In 1823 Johann Friedrich Voigtlander (1779-1859), an optician in Vienna, used two bridging frames to fix together the barrels of two identical ivory and gilt spyglasses. He may not have been the first to mount two spyglasses together. An account by the English optician J.T. Hudson, written in 1840, claimed the practice had been going on since 1815. During the 19th century opera glasses became very popular. The work carried out on stereoscopy by Wheatstone and Brewster in the 1830s and 1840s may have helped to drive a public interest in using both eyes together.
How Acquired:
Donated by The Harber family, Melbourne
Date Acquired:
April 2016
Condition:
Fair to good. Leatherette inside and out is worn. Side pieces are torn allowing the case to open fully. Focussing mechanism does not work
Location:
Archive Office. Cabinet One Drawer 4