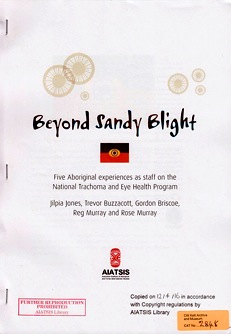 Sub-Category:
Hewett collection
Author:
JONES Jilpia, BUZZACOTT Trevor, BRISCOE Gordon, MURRAY Reg, MURRAY Rose
Year Of Publication/Manufacture:
2008
Place Of Publication/Manufacture:
Canberra
Publisher/Manufacturer:
Australian Institute of Aboriginal and Torres Strait Islander Studies
Description Of Item:
Side stapled, 87 A4 pages which are colour photocopies, with coloured illustrations throughout. Foreword by Gabi Hollows. Stamped on each page that the document was copied on 12/4/16 in accordance with copyright regulations by AIATSIS regulations. FURTHER REPRODUCTION PROHIBITED.
Historical Significance:
This document records the experiences and emotions of ten participants in the National Trachoma and Eye Health Program that collected data on the eye health and provided treatment for indigenous peoples of Australia from 1976 to 1978. It was a large scale project that visited 465 indigenous communities to examine over 60,000 people. Its report was submitted to government in 1980. Sandy Blight (trachoma) was found to be endemic in indigenous communities by Father Frank Flynn, a catholic priest and ophthalmologist, in the 1940s, although his results were not published until 1957. Professor Ida Mann, an English ophthalmologist who migrated to Australia in 1949 did surveys in Western Australia that found the same extraordinary high prevalence of trachoma, which she published in 1954. The problem has proved to be intractable and the National Trachoma and Eye Health Program of 1976 to 1978 led by Fred Hollows showed the problem had persisted. It remains an important issue. See Professor Hugh Taylor's book 'Trachoma' 2008 (Cat No 2134). There is a photograph of the participants in the National Trachoma and Eye Health Program on page xi of this report, which includes Fred Hollows and Gabi Hollows
How Acquired:
Purchased by Kett Optometry Museum
Date Acquired:
April 2016
Location:
Archive office. Pamphlet and ephemera filing cabinet. Drawer 7