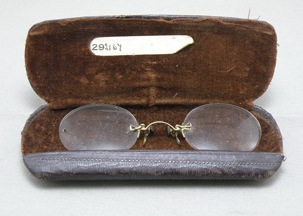 Small brown snap spectacle case for C Werner and Co containing rimless pince-nez
Category:
Spectacles and lenses
Sub-Category:
Spectacles with case
Year Of Publication/Manufacture:
1930s
Time Period:
1900 to 1939
Description Of Item:
Small metal snap spectacle case, 125 x 50 mm, covered in brown patterned fabric and lined with brown velvet, gold-stamped on the front with a circular trade mark around which are the words ' C. WERNER & CO PTY LTD 336 COLLINS ST MELBOURNE '. A label with the number 29167 is affixed under the lid. The case contains oval-eye rimless pince-nez, 110 x 33 mm, glazed with flat glass lenses of power -3.00 D right and left, with gold finger-grip and a pad bridge. There is a drilled hole in the right lens for a chain or cord (Missing). The trade name FITT-UE is stamped under the bridge.
Historical Significance:
Carl Werner (b1852-) founded a two-generation optometry firm in Melbourne and the members of the family were influential in the early development of optometry in Victoria. Carl Werner came to Australia in 1870 from Kiel in Holstein, at the age of 18, to live with an uncle in Ballarat. He had received some early optical training in Germany and joined the firm of Alex, Marks and Co. in Ballarat. Here, he worked with William Henry Carter, who had done an apprenticeship as jeweller and watchmaker in Melbourne. Henry Carter and Carl Werner started their own business (Carter and Werner) as jewellers, opticians and importers of optical instruments in Lydiard Street, Ballarat. They later opened a branch in Launceston, Tasmania and agencies in other towns. Carl Werner later travelled to London to study for the Fellowship of the Spectacle Makers Company (FSMC) which he completed in 1896, obtaining certificate No 1 of this newly established Fellowship qualification. His three sons, Fred, Roy (1891-1990) and Max were also optometrists and qualified in London and continued the practice until the 1980s . See an account of the Werner family by Wolf Gartner in Clin Exp Optom 2008; 91: 4: 412-414. Available on the Museum website under the tab 'People who made history'
How Acquired:
Donated by Colin Dundon, antique ophthalmic collector, Williamstown
Location:
Archive Office. Spectacles cabinet Drawer 9