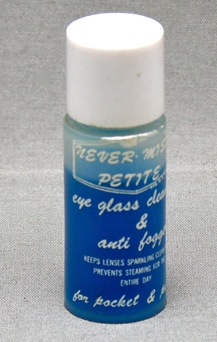 Never Mist Petite eyeglass cleaner and antifogger
Category:
Spectacles and lenses
Corporation:
Schnapp Enterprises
Year Of Publication/Manufacture:
c 1980
Time Period:
1940 to 1999
Place Of Publication/Manufacture:
Brooklyn, New York, USA
Publisher/Manufacturer:
Schnapp Enterprises
Description Of Item:
Translucent plastic bottle 52 mm high, 20mm diameter with white screw cap. Bottle is ? filled with a blue liquid. Bottle bears the words Never-Mist Petite eye glass cleaner & anti fogger; Keeps lenses sparkling clean and prevents steaming for the entire day; for pocket & purse; Squeeze one drop on each lens and wipe clean with clean dry cloth; Refill with 4 oz. Never mist. Spray; Contents ? fluid ounce; Schnapp Enterprises, Brooklyn 11,New York.
Historical Significance:
Never Mist Cleaner was a popular lens cleaner and anti fogger distributed to Australian optometrists in the 1960s to 1980s. Schnapp Enterprises was operated by Arnold Edward Schnapp from 1954 to 1996 when the company was 'dissolved'. Arnold Schnapp was associated with a diverse range of companies including advertising and became a successful web designer in 1994.
How Acquired:
Donated by Colin Bates, honorary archivist
Condition:
Good. Print slightly smudged.
Location:
Archive office. East wall shelves unit 3. Drawer 11