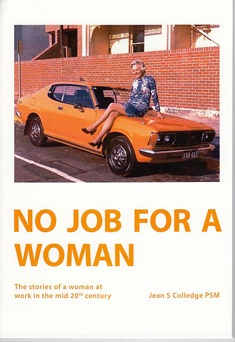 Author:
COLE (COLLEDGE) Jean S
Year Of Publication/Manufacture:
2016
Place Of Publication/Manufacture:
Melbourne
Publisher/Manufacturer:
Self published
Description Of Item:
Booklet, white card cover with colour illustration, 145 x 210 mm, A5, 58 paginated pages, 3 preliminary pages. illustrated through text in colour and black and white.
Historical Significance:
Jean Cole PSM was the Secretary of the Australian College of Optometry from 1964 to 1984. She was Jean Colledge in her working life. She came to the College with experience in the corporate world in Melbourne and London as secretary and what these days would be called personal assistant to senior executives. At the time there were only two other full time staff in the College, Barry Cole and Barry Collin, and not many students. Over the next 40 years she was very much involved in the rapid growth of the College: its expanding clinic, the starting of the Victorian Eyecare Service, the Low Vision Clinic at Kooyong, fund raising for and the establishment of the NVRI for which she negotiated the property purchases (see Cat no 389) . Her role as Company Secretary and Chief Financial Officer grew accordingly but perhaps more importantly she also contributed enormously to creating a dynamic and unified culture in the College. She was awarded the Public Service Medal ( PSM) in the Queen's Birthday honours list in 1990 for her contributions to the public good through the development of the College and was made an honorary life member of the College on her retirement in 1994. This booklet is her memoir covering her early life at home, her time working in London and returning to Australia as a ships's welfare officer. In a long Chapter 4 the book gives her account of working in the College between 1964 and 1994. A theme of the book is the story of a single woman making her way in what was then very much a man's world, in business, in politics and the church.
How Acquired:
Donated by Jean Cole. honorary life member of the Australian College of Optometry
Location:
Archive office. Pamphlet and ephemera filing cabinet. Drawer 7