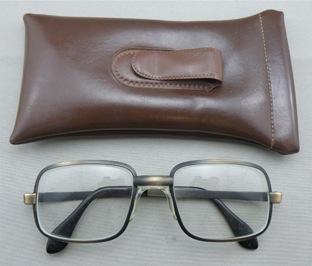 Model 374 Martin Wells spectacle frame glazed with photogrey glass lenses with slip-in case
Category:
Spectacles and lenses
Sub-Category:
Spectacles with case
Corporation:
MARTIN WELLS PTY LTD
Year Of Publication/Manufacture:
1978
Time Period:
1940 to 1999
Place Of Publication/Manufacture:
Australia
Publisher/Manufacturer:
Martin Wells Pty Ltd
Description Of Item:
Men's metal spectacle frame, 135 x 42 mm, made in Australia by Martin Wells Pty Ltd in antique gold colour with a 'comfort' bridge and black plastic tipped hockey sides. It is glazed with glass Photogrey lenses R -3.50/-0.25 x 165 L -3.25 D D Sph. The left side is engraved ' FRAME AUSTRALIA'; the right side is engraved ' 135 (side length) MARTIN WELLS 374 (Model name) C/B (designating Comfort bridge) '. It is contained in a brown plastic slip-in spectacle case, 155 x 75 mm, with spring opening and a pocket clip. Spectacles only in Museum Gallery.
Historical Significance:
Martin Wells was an Australian spectacle frame manufacturer founded by business man Sidney Sinclair OBE AM (1915-1999), optometrist Eric Hurst and Dino Zigarelli, a spectacle frame expert. Martin Wells produced a range of spectacle frames in the 1950s that were highly popular in Australia and ushered in a new era of fashion into spectacles in Australia. In the early 1950s the most common styles were flesh and demi-amber plastic frames with full-vue lens shape and plastic hockey sides; steel frames covered with imitation tortoise shell and curl sides, and rimless glasses. They were not fashion items and Martin Wells was the first Australian frame manufacturer to produce fashion frames.
How Acquired:
Donated by Colin Bates, honorary archivist
Location:
Archive Office. Spectacles cabinet Drawer 17