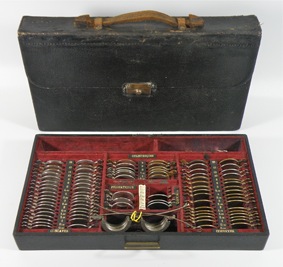 Portable trial lens set and trial frame in a carry case with handle
Sub-Category:
Trial lens case
Year Of Publication/Manufacture:
c 1900
Time Period:
1900 to 1939
Place Of Publication/Manufacture:
France
Description Of Item:
Portable trial lens set contained in a carry case, 365 x 260 x 50 mm. The carry case is made of heavy card covered in black leatherette. It is closed with a flap secured by a brass clasp and has a leather carry handle. Inside is a tray containing the trial lenses that is made of timber covered with black leatherette and lined with wine coloured velvet. The trial lens tray can be slid out of the carry case. It contains 19 pairs of concave lenses and 19 pairs of convex lenses in power from ? 0.50 D to ? 18.00 D and 12 cylindrical lenses, six positive power and 6 negative from 0.50 D to 4.00 D. There are also 4 prism trial lenses from 2.00 to 10 prism dioptres as well as several auxiliary devices. The groups of lens types are identified by labels in French. The tray has compartments for a trial frame and other accessories. The trial frame is made of base metal, has straight sides and has three half-eye cells with an axis scale on the front.
How Acquired:
Donated by Colin Dundon, antique ophthalmic collector, Williamstown
Condition:
Fair. Leatherette of the carry case is damaged and a few lenses are missing
Location:
Archive office. East wall shelves unit 2