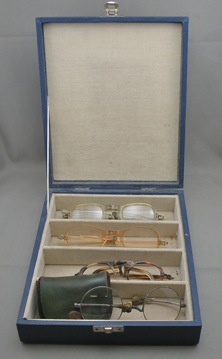 Spectacles display box containing folding spectacles
Category:
Spectacles and lenses
Sub-Category:
Spectacles folding, scissors glasses
Year Of Publication/Manufacture:
Mid 1930s
Time Period:
1940 to 1999
Description Of Item:
Small four-compartment spectacles display box, 175 x 210 x 50 mm H, covered in blue leatherette and lined with cream velvet. The box has a hinged lid and a metal closing clasp. It contains four folding spectacle frames, three of which are stamped on the inside of a side ' HARVETTE PAT NO. 357677, one being crystal colour shell, glazed w, the second flesh colour shell (L temple missing, unglazed), and the third is tortoiseshell colour, unglazed, and is a small size model with eye size 34 mm. The fourth folding spectacles has a metal round-eye frame with very short straight sides with 'tortoiseshell' end pieces, and is glazed with R and L +3.00 D sph. It is contained in original olive green leather pouch lined with red velvet. Item 4 only is in the Museum Gallery.
Historical Significance:
UK Patent 357677 for 'Improvements in or relating to folding spectacles' was applied for on 14th July 1930 by Gerald Henry Wingate of 15 Wigmore Street, Cavendish Square, London. The patent was published on 1st October 1931. See other folding spectacles at Cat No. 209, 647, 674, 769, 2335, 2558 and 2560
How Acquired:
Donated by Colin Dundon, antique ophthalmic collector, Williamstown
Location:
Archive room. West wall. Unit 2 Drawer 2