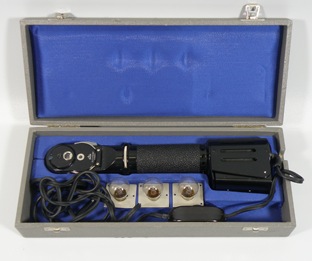 Sub-Category:
Ophthalmoscope
Designer/inventor:
CUPPERS, Curt
Year Of Publication/Manufacture:
c1960
Time Period:
1940 to 1999
Place Of Publication/Manufacture:
Germany
Publisher/Manufacturer:
Oculus Gmbh
Description Of Item:
Ophthalmoscope designed especially for the treatment of amblyopia and eccentric fixation using the methods of pleoptics developed by the German ophthalmologists, Alfred Bangerter and Curt Cuppers in the 1950s. The ophthalmoscope is contained in a grey leatherette case, 320 mm L x 130 mm W x 64 mm H, lined with blue silk-like cloth, and with a hinged lid closed by two clips. The top of the case bears the words 'OCULUS-EUTHYSCOP'. The case contains three spare lamps. The ophthalmoscope has a black electrical lead with an online switch and two pin plugs for connection to a transformer and control box, which is missing. In the box also is a photocopy of the instruction manual 'Euthyscope' for the instrument published by Oculus.
Historical Significance:
Pleoptics is an alternative system of methods for the treatment of amblyopia and eccentric fixation. It was devised in 1947 by Alfred Bangeter (1909-2002), a Swiss ophthalmologist who was head of the Eye Department in St-Gallen from 1946 to 1983. He actively promoted his methods at conferences, in publications and through a School of Pleoptics and Orthoptics that he created. The method used bright light to desensitise the region of the retina used for eccentric fixation and the stimulation of the true fovea with flashing lights. and other methods. Bangeter devised some 20 instruments for providing pleoptic treatment. His contemporary, Curt Cuppers, (1910-1995), a German ophthalmologist, was equally inventive in producing instruments, of which this item is one example. However, pleoptics did not hold to its initial promise and interest in it declined during the 1960s. See Priestley BS. Pleoptics instruments and methods. Int Opthal Clinics 1961; 1: 787-827 for a detailed account of pleoptic instruments. Oculus was first established by Alois Mager as the "A. Mager Special Factory for Ophthalmological Instruments" in Berlin in 1895. Its first products were ophthalmoscopes, Javal-ophthalmometers and the Forsterperimeter. It adopted the name Oculus in 1933, It now has subsidiaries in several countries including the USA, Spain and Hong Hong and continues to make ophthalmic instruments, including the Pentacam, trial case sets and trial frames and perimeters.
How Acquired:
Donated by Graham Sheil, European Eyewear, Melbourne
Condition:
Good but control box is missing
Location:
Archive room. East wall Unit 1 Cupboard