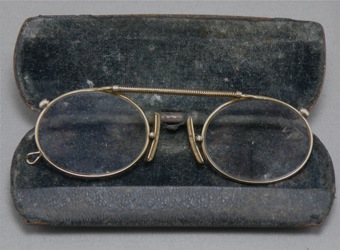 Gold Astig Pince-Nez with Flat Lenses in Metal Snap Case
Category:
Spectacles and lenses
Year Of Publication/Manufacture:
c1920
Time Period:
1900 to 1939
Description Of Item:
Gold frame astig pince-nez 95 x 30 mm (Eye size 40 m Bridge 20-44 mm) with oval flat single vision spherical lenses R +4.00D L +3.50 D with straight flat spring bridge and adjustable cork lined pads affixed to the inner frame rims. The top left end of the bridge is stamped 925 1/10 G F R. The R is enclosed in a triangle. There is a small loop on the right rim to take a chain or cord. The frame is contained in a small metal snap case 110 mm x 42 mm x 13 mm covered in black fabric and lined with black velvet. gold stamped on front with A E SALT OPTICIAN in an elliptical annular logo with WESTON S-MARE horizontally across it.
Historical Significance:
A E (Albert Edward) Salt was recorded as practising at 19 Fetter Lane, London EC4 in 1939 by FBOA. The location of Weston Super Mare does not correspond with this listing and perhaps suggests an earlier practice location. Similar examples Cat Nos. 732, 770, 2625
How Acquired:
Donated by Colin Dundon, antique ophthalmic collector, Williamstown
Condition:
Frame and lenses very good. Case poor
Location:
Archive Office. Spectacles cabinet Drawer 9