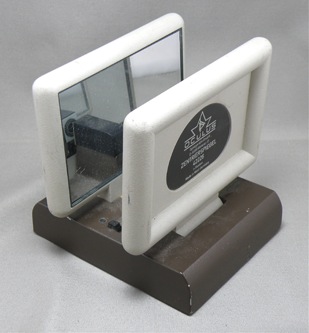 Oculus centering mirror device
Sub-Category:
Dispensing tool
Time Period:
1940 to 1999
Place Of Publication/Manufacture:
West Germany
Publisher/Manufacturer:
Oculus Gmbh
Description Of Item:
Two tilting mirrors, 100 x 63 mm, in grey plastic frames facing each other and mounted on a brown enamel metal base, 110 mm D x 89 mm W x 24 mm H, with a light on a vertical stand between the two mirrors. The base holds batteries for the light, the switch for which is on the top of the base.
Historical Significance:
This is a device for marking the centres of progressive power lenses so they are correctly located when fitted to the patient's spectacle frame. The maker of this device, Oculus, was first established by Alois Mager as the "A. Mager Special Factory for Ophthalmological Instruments" in Berlin in 1895. Its first products were ophthalmoscopes, Javal-ophthalmometers and the Forsterperimeter. It adopted the name Oculus in 1933, It now has subsidiaries in several countries including the USA, Spain and Hong Kong and continues to make ophthalmic instruments, including the Pentacam, trial case sets and trial frames and perimeters.
How Acquired:
Donated by Graham Sheil, European Eyewear, Melbourne
Location:
Archive room. West wall. Unit 2 Overhead display