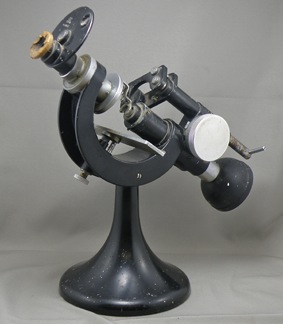 Sub-Category:
Vertometer, lensometer, focimeter
Year Of Publication/Manufacture:
c 1940
Time Period:
1940 to 1999
Place Of Publication/Manufacture:
Japan
Publisher/Manufacturer:
Tokyo Kogaku
Description Of Item:
Focimeter (vertometer, lensometer) made of metal finished in black enamel with some parts polished metal, 290 mm high, base 138 mm diameter. Two external scales for lens power and cylindrical axis which are viewed through magnifying lenses in a metal disc near the eyepiece. Marked on that metal disc are the words ' TOKO No.129253 ' with an inverted triangular trade mark between TO and KO
Historical Significance:
Tokyo Kogaku, was the precursor company to Topcon, a well know manufacturer of ophthalmic instruments. Tokyo Kogaku, a Japanese optical manufacturer, was previously a manufacturer of photographic equipment. Tokyo Kogaku was founded in 1932 which is usually translated as Tokyo Optical Company. It resulted from the merger in September 1932 of the measurement instruments section of Seik sha (the manufacturing branch of Hattori Tokei-ten) and Katsuma K gaku Kikai Seisakusho. It began using the Topcon brand name for cameras in 1953. The Tokyo Optical Company established the Topcon Instrument Corporation in 1970. See another more recent focimeter by Tokyo Kogaku at Cat No. 784.
How Acquired:
Donated by Estate of William Cooper, via Peter Lewis
Condition:
Fair. Paint splashes on the black enamel, lamp and lamp housing cover are missing and the eyepiece has been repaired
Location:
Archive office. East wall shelves unit 3