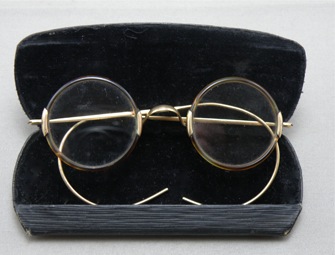 Round-eye gold and tortoise shell spectacles in snap case
Category:
Spectacles and lenses
Sub-Category:
Spectacles with case
Year Of Publication/Manufacture:
c 1910
Time Period:
1900 to 1939
Description Of Item:
Round-eye spectacles, 105 X 40 mm, with gold saddle bridge and gold curl sides. The bridge is stamped WINDSOR LG. The spectacles are glazed with flat glass lenses with low cylindrical power. The spectacles are contained in a black grained snap case, 110 x 50 mm, lined with blue velvet. The underneath of the case is stamped A W WILLIAMS / OPTICIAN / 313 SWANSTON ST / MELBOURNE
Historical Significance:
Alfred Williams was in practice as an optometrist at least from 1903 to 1936. He was registered for the practice of optometry at the address on the case in 1936, when optometrists in Victoria were, for the first time, required to be registered after the passage of the Victorian Opticians Registration Act in December 1935. He was a foundation member of the Victorian Optical Association in 1911 and is recorded in the VOA register of members as having had seven years of experience as a principal of a practice.
How Acquired:
Donated by Estate of William Cooper, via Peter Lewis
Date Acquired:
April 2016
Location:
Archive Office. Spectacles cabinet Drawer 1