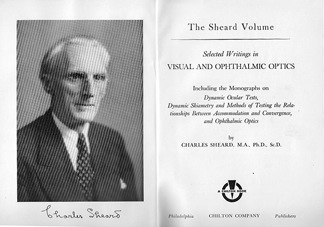 The Sheard Volume. Selected writings in visual and ophthalmic optics including the monographs on Dynamic ocular tests, Dynamic skiametry, and Methods of testing the relationship between accommodation and convergence and Ophthalmic Optics
Sub-Category:
Significant book (Aitken collection)
Year Of Publication/Manufacture:
1957
Time Period:
1940 to 1999
Place Of Publication/Manufacture:
Philadelphia, USA
Publisher/Manufacturer:
Chilton Company
Description Of Item:
Original maroon cloth covers, 240 x 160 mm, 467 pages, frontispiece portrait of Charles Sheard, black and white figures and diagrams throughout text, an ex-library copy with 'withdrawn' notice from Belfast Public Libraries. This book is reproduces papers published by Sheard. Its publication was overseen by three committees, one of ophthalmologists, the second of opticians and the third of optometrists. At the end of the book is two page biographical sketch for Sheard, a bibliography of all Sheard's publications, numbering 298, and a list of pre-publication patrons and sponsors. The publications are grouped in six sections: editorials and essays, dynamic ocular tests, dynamic skiametry and means of testing accommodation and convergence, analysis of of ocular accommodation and convergence, ophthalmic optics with applications to physiological optics, and ocular photosensitivity
Historical Significance:
Dr. Charles Sheard (1883-1963) is known for Sheard's criterion for evaluating accommodative convergence relationships and for establishing the first 4 year optometry course at Ohio State University (OSU). He published 9 books and > 65 papers on optometry clinical subjects. He was a physicist, not an optometrist, having obtained his PhD at Princeton University. He went to OSU as an instructor in 1907 and became Professor of Applied Optics responsible for the 2 year optometry course. He argued successfully for the course to be 4 years in 1915. In 1919 he went to the American Optical Company and was Director of Biophysics at the Mayo Clinic from 1924 to 1949. See J Opt Soc Amer 1958; 48: 205-6 for a biography. He was a central figure in the understanding of the accommodative and convergence relationship and the concept of graphical analysis of that relationship as a clinical tool.
How Acquired:
Purchased by Kett Optometry Museum
Condition:
Very good except for old library stamps and markings
Location:
Nathan Library. Aitken collection