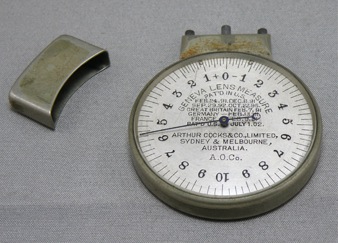 Sub-Category:
Lens measure, lens clock
Year Of Publication/Manufacture:
After 1902
Time Period:
1900 to 1939
Place Of Publication/Manufacture:
USA ?
Publisher/Manufacturer:
Geneva Optical Company
Description Of Item:
Glass-faced Geneva lens measure for measuring the curvature of the front and back surfaces of ophthalmic lenses, 50 mm dia. 6 mm deep. Made of base metal and glass with white clock face under the curved protective glass cover with black dioptre scale from ? 10 D, with black rotating pointer. Three pins under protective metal cover Marked ' GENEVA LENS MEASURE / PAT'D IN U. S. / FEB. 24.91. DEC. 8. 91 / SEP. 29. 92. OCT. 32. 95 / GREAT BRITAIN FEB. 6. 91 / GERMANY - FEB. 9.91. / PAT'D U.S. JULY 1. 02. / ARTHUR COCKS & CO., LIMITED, / SYDNEY & MELBOURNE, / AUSTRALIA. / A. O. Co. '
Historical Significance:
The manufacturer is the Geneva Optical Company, although this is not explicitly marked on the measure. Patent No 703,725 dated July 1 1902 (Application July 12 1900) (a date and paten number on the face of this measure) was granted to the inventor Franklin Hardinge of Chicago, Illinois, assignor to Geneva Optical Company, for 'certain new and useful improvements in Lens-Measuring Instruments'. The Geneva Optical Company was founded in 1875 and takes its name from the west New York State town of Geneva, near Rochester NY. There is a record that it moved to new premises in that town in 1893. It grew to have offices in Chicago, St Louis, Cincinnati, Minneapolis and Des Moines. A catalogue for the company at Cat no. 1173 dating from the early years of the 20th century has two lens measures on page 113 one of which is similar to this example. Arthur Cocks and Co Ltd was the importer and sales agent for this lens measure and his order for supply was sufficiently large for its name to be inscribed on its face, Arthur Cocks and Co Ltd was a large and successful wholesaler of goods for opticians and jewellers with branches in Sydney, Melbourne, Brisbane, Wellington NZ and Birmingham UK, It was founded in 1899 by Arthur Cocks (1862-1943), who was its managing director until 1939.
How Acquired:
Donated by Estate of William Cooper, via Peter Lewis
Condition:
Very good except some tarnishing of metal case
Location:
Archive office. East wall shelves unit 3. Drawer 1