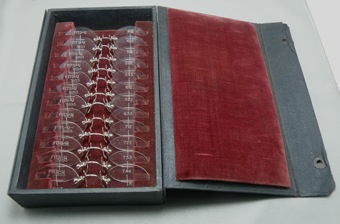 FITS-U eyeglasses (fitting set)
Sub-Category:
Dispensing tool
Year Of Publication/Manufacture:
c1920
Time Period:
1900 to 1939
Place Of Publication/Manufacture:
Southbridge, Mass, USA ?
Publisher/Manufacturer:
American Optical Company ?
Description Of Item:
Pince-nez bridge fitting set. Black leatherette covered timber box 130 x 229 x 38 mm with fold-out lid, secured by two push button clips, maroon velvet lined interior fitted to hold 12 rimless oval eye pince-nez. Gold coloured metal saddle bridge finger pieces. The left lenses of the pince-nez are marked with a cross and a three digit number and the right lenses are marked with a cross, the word FITS-U and the number 3103.
Historical Significance:
The trial finger piece set was an optician's tool to fit patients with an appropriate pince-nez. This set was probably made by the American Optical Company since the company is known to have made such sets using the brand name FITS-U. See http://pincenez1.blogspot.com/2008/03/trial-fingerpiece-set.html. The "Fits-U" trial finger piece sets were made from 1903 to about 1930 by the American Optical in Southbridge, Massachusetts. Smaller makers such as Perfex and Shur-On also made pince-nez fitting sets. There are three different factors determining fit of pince-nez: 1) interpupillary distance, 2) height of the bridge, and 3) inclination of the crest of the bridge. These parameters are designated in the three digit number on each lens, The first digit of the three digit number indicates pupillary distance in the unit of 1/16th inch, the second digit indicates the height of the bridge (also in 1/16 inch units) and the third digit indicates the inclination of the bridge beyond the plane of the lenses. See Cat Nos 1729, 1730 and 2035 for other examples.
How Acquired:
Donated by Estate of William Cooper, via Peter Lewis
Date Acquired:
April 2016
Condition:
Good except outside of the box is worn and stained
Location:
Archive room. West wall. Unit 2 Drawer 2