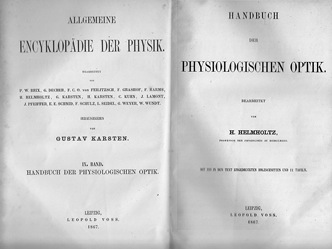 Handbuch der Physiologischen Optik
Sub-Category:
Significant book (Aitken collection)
Author:
HELMHOLTZ. Hermann von
Year Of Publication/Manufacture:
1867
Place Of Publication/Manufacture:
Leipzig, Germany
Publisher/Manufacturer:
Leopold Voss
Description Of Item:
Dark brown calf leather cover, 240 x 160 mm, gold stamped on the front and back with the heraldic crest of Pembroke College, Oxford, and gold stamped with the book title on the spine, 874 pages and one page addendum. A pocket formed by the back paste down contains five of originally eight folding plates. There are pencil notes in English in a few margins. The book is volume 9 in the series Allgemeine Encylopaedie der Physik edited by Gustav Karsten. (see page facing the title page). Digital images of the missing plates are on a CD held in the Pamphlet and Ephemera filing cabinet under Catalogue number 2924 together with print-outs of the images. They were copied courtesy of the BOA Museum Curator, Neil Handley, from a copy of this book in the Library of the the College of Optometrists, London. Images of this missing plates are on the Museum iPhoto
Historical Significance:
This is the first edition of Helmholtz's famous and influential book on physiological optics, written in German and published in 1867. There were later German language editions published in 1896 and 1909. An English language edition was published in 1924/1925 in three volumes translated from Helmholtz's third edition (See Cat Nos 84. 85, 86). Hermann von Helmholtz (1821 - 1894) is a towering figure in vision science. He qualified in medicine at the Berlin Medical Institute in 1843 and began researching while on military service as a physician in Potsdam. By 1858 he was Professor of Anatomy & Physiology in Bonn and after professorial appointments in Konigsberg & Heildelberg became Professor of Physics in Berlin in 1871. In the wider world of science he is best known for his work on mathematical physics and acoustics but he is also the father of vision science.
How Acquired:
Purchased by Kett Optometry Museum (purchased by Pamela Sutton, honorary archivist, at the Portobello Road market, London, in July 2016)
Condition:
Light foxing throughout. Was repaired Feb 2017 to good condition
Location:
Nathan Library. Aitken collection