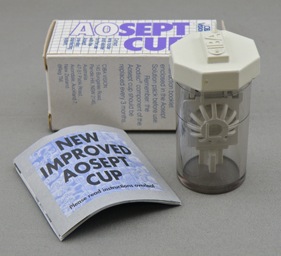 AoSept Cup, Box and Instruction Leaflet
Category:
Spectacles and lenses
Sub-Category:
Contact lenses and accessories
Time Period:
1940 to 1999
Publisher/Manufacturer:
Ciba Vision
Description Of Item:
White cardboard box 66 mm x 33 mm x 33 mm printed on three sides and top with AOSEPT CUP in purple and CibaVision, Contact lens holder and washer for the use with Aosept one-step disinfection system in blue on three sides. The fourth side advises the reading of the enclosed instruction booklet and the addresses of Ciba Vision in Australia and New Zealand. Box contains Transparent grey cylinder with white octagonal screw cap and integrated lens baskets and four fold instruction leaflet printed on both sides.
Historical Significance:
The AoSept disinfection system for soft contact lenses was a single step system using hydrogen peroxide solution which was neutralised to normal saline by a catalyst impregnated plastic 'disc'See Cat. No. 2930
How Acquired:
Donated by Colin Bates
Location:
Archive room. West wall. Unit 6 Drawer 2