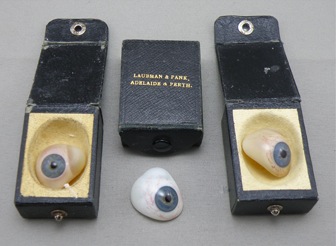 Three ocular protheses each in a separate case
Category:
Spectacles and lenses
Sub-Category:
Artificial eyes, facial prosthesis
Year Of Publication/Manufacture:
1970s ?
Time Period:
1900 to 1939
Place Of Publication/Manufacture:
Adelaide
Publisher/Manufacturer:
Laubman and Pank
Description Of Item:
Three custom-made boxes each, 50 x 37 x 23 mm, and covered in black leatherette, two stamped on the top ' Phone 8080 / Laubman and Pank / Adelaide ' and one gold stamped ' LAUBMAN & PANK / ADELAIDE & PERTH '. Each has folding lid secured by a press stud and are fitted with a felt lined pocket containing an artificial eye, that is probably glass.
Historical Significance:
See Cat. Nos. 1979, 2023 and 2935 for other examples of artificial eyes and see also a booklet on the history of ocular protheses Cat No 1843. Laubman and Pank was a large optometry firm founded in 1908 and (in Perth from 1926). It enjoyed a reputation for enterprise and innovation and was well regarded in the profession, unlike the other large optometry firms, Coles and Garrard in Melbourne and Gibb and Beeman in Sydney, which were considered to be commercial, narrow in vision and and a barrier to the development of optometry as a profession. Laubman and Pank founded SOLA, a large multinational CR39 lens manufacturer based in Adelaide, which lead the development of CR39 lenses in the second half of the 20thC as the lens material replacing glass. Laubman and Pank was sold to OPSM as were Coles and Garrard and Gibb and Beeman in OPSM's search for market expansion in optometry, ending for Laubman and Pank the great vision of a large enterprising company run and controlled by optometrists. See a book on the history of Laubman and Pank Cat. No. 1108.
How Acquired:
Donated by Estate of William Cooper, via Peter Lewis
Location:
Archive office. East wall shelves unit 3. Drawer 6