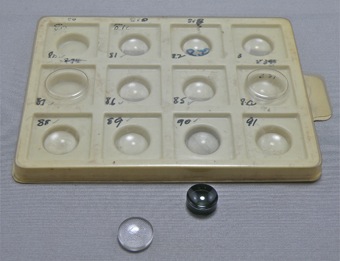 Set of Soft Contact Lens Reference Spheres
Category:
Spectacles and lenses
Sub-Category:
Contact lenses and accessories
Time Period:
1940 to 1999
Description Of Item:
Two white plastic containers 125 mm x 95 mm x 8 mm with clear tops. Each container has twelve compartments with a radius of curvature hand-written beside each compartment. Compartments contain 14 clear convex-plano buttons with a radius of curvature hand-engraved on the flat surface. A tinted concave-plano button has no engraving.
Historical Significance:
The clear buttons were most likely used to measure back surface curves of finished soft contact lenses in the early years of soft lens manufacture. At that stage lens thicknesses were in the order of 0.2 mm and would hold their shape well enough for the curvature to be determined. The trays have been identified as the type in which Hydron supplied HEMA blanks. Two silica gel buttons were included and the tray sealed in foil.
How Acquired:
Donated by John Strachan
Location:
Archive room. West wall. Unit 6 Drawer 2