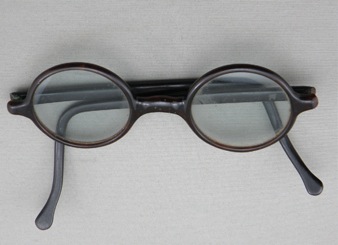 Dark demi-amber round eye shell spectacles with tinted lenses
Category:
Spectacles and lenses
Sub-Category:
Spectacles (with lenses)
Year Of Publication/Manufacture:
c 1930
Time Period:
1900 to 1939
Description Of Item:
Shell round-eye dark demi-amber spectacle frame,120 x 46 mm, measured size 40/22, glazed with plano glass tinted (Crookes A1?) lenses, saddle bridge, hockey temples. No frame markings except for ' 6 ' inside each of the two temples.
How Acquired:
Donated by Estate of William Cooper, via Peter Lewis
Location:
Archive Office. Spectacles cabinet Drawer 1