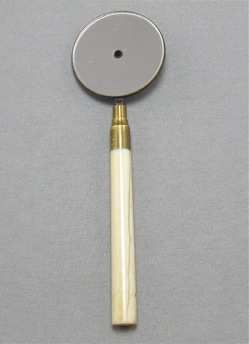 Arnold & Sons Liebreich Ophthalmoscope
Sub-Category:
Ophthalmoscope
Designer/inventor:
Richard Liebreich
Year Of Publication/Manufacture:
c1860
Place Of Publication/Manufacture:
London
Publisher/Manufacturer:
Arnold & Sons
Description Of Item:
Non luminous ophthalmoscope with tapered screw-on ivory handle and perforated concave mirror. Brass mount and head, black finish to head. Hinged clip for Coccius lens mounted on rear. Impressed: 'ARNOLD & SONS LONDON'. Size: 132 x 39 mm.
Historical Significance:
In 1860, Liebreich was the first to describe a small hand-held ophthalmoscope with a clip to hold a corrective lens. The clip could be flipped in front of the sight hole. Similar ophthalmoscopes were devised by Seggel in 1876, by Hirschberg in 1877 and by von Michel in 1878. Ref: Hirschberg's History of Ophthalmology Vol 11 Part 2 pA5-A9, 1986
Condition:
Very good but slight rust at hinge & handle cracked
Location:
Archive Office. Cabinet One Drawer 10