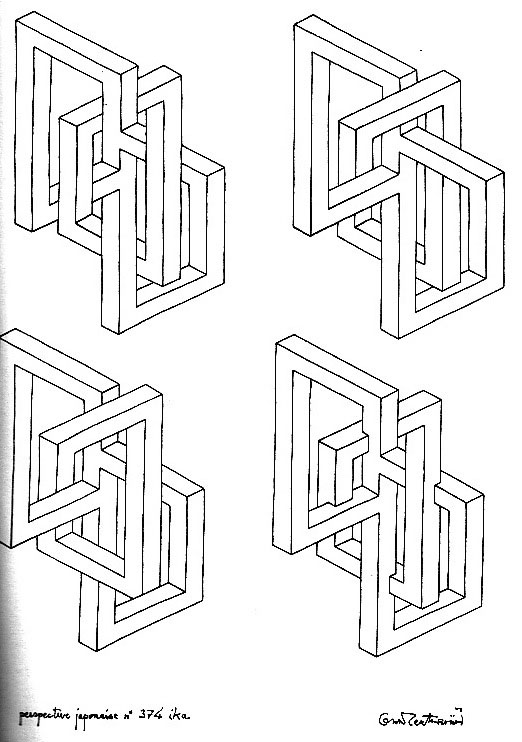 Omojliga figurer (Impossible figures) Oscar Reutersvard
Year Of Publication/Manufacture:
1984
Time Period:
1940 to 1999
Place Of Publication/Manufacture:
Kongens Lynby, Denmark
Publisher/Manufacturer:
Technical University of Denmark
Description Of Item:
Red and white graphic design paper wrappers, A4 size, being a catalogue in the Danish language for an exhibition of the work of Oscar Reutersvard held at the Technical University of Denmark from September 27 to November 1984, It contains forewords by H. H. Hvidt and Martin Johansen and an article by Oscar Reutersvard on the Japanese Perspective and the Impossible, one page of biographical notes for Oscar Reutersvard and eight illustrations of impossible figures. Slipped-in is a price list for original works and a catalogue of the art exhibition,
Historical Significance:
Oscar Reutersvard (1915 - 2002) is widely acknowledged as "the father of the impossible figure. He was a Swedish graphic artist who in 1934 pioneered the art of 3D drawings which may initially appear feasible, yet cannot be physically constructed. His work is similar to that of Maurits Cornelis Escher (1898 - 1972) who was a Dutch graphic artist well known for his often mathematically inspired woodcuts, lithographs, and mezzotints that feature impossible constructions. See Escher's book published in 1992 held in the Hewett Collection in the Nathan Library (cat No. 1100). Swedish artist Oscar Reutersvard was one of the first to deliberately design many impossible objects. He has been called "the father of impossible figures". In 1934 he drew the Penrose triangle, some years before the Penroses. In Reutersvard's version the sides of the triangle are broken up into cubes. In 1956, British psychiatrist Lionel Penrose and his son, mathematician Roger Penrose, submitted a short article to the British Journal of Psychology titled "Impossible Objects: A Special Type of Visual Illusion". This was illustrated with the Penrose triangle and Penrose stairs. The article referred to Escher, whose work had sparked their interest in the subject, but not Reutersvard, of whom they were unaware.
How Acquired:
Donated by Professor Robert Augusteyn, former Director of the NVRI
Location:
Archive office. Pamphlet and ephemera filing cabinet. Drawer 6