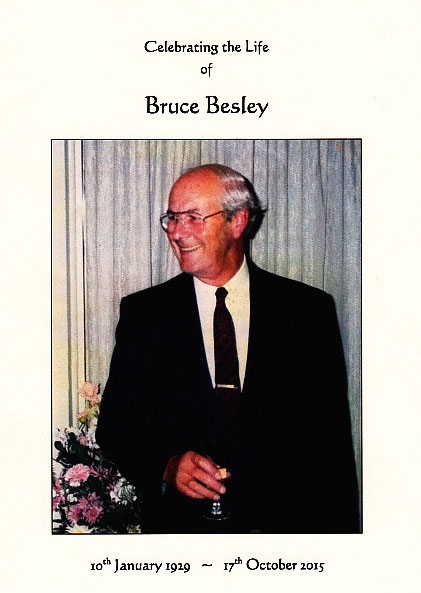 Death of Bruce Besley, President of the Australian College of Optometry 1978-1991.
Sub-Category:
Collection of papers (People) incl CVs
Year Of Publication/Manufacture:
2015
Place Of Publication/Manufacture:
Melbourne
Description Of Item:
Collection of papers related to the death of Bruce Kelvin Besley, a former President of the Australian College of Optometry and National President of Optometry Australia, on October 17 2015. viz: (1) Order of service for the funeral held on October 23 October 2015, (2) newspaper clipping of two tribute notices published in The Age on October 22, 2015, (3) notes of Barry Cole for his eulogy for Bruce Besley at the funeral and, (4) online notice of his death in the news section of the Optometry Australia web site posted October 19 2015 and printed October 24.
Historical Significance:
Bruce Besley was a Melbourne optometrist who was very active in professional affairs. He was Victorian State President of the Optometrists Association 1961-62 and National President of the Association 1970-73. He was very much involved in the acceptance of optometry into the Australian government national medical insurance scheme then called Medibank. He was on the College Council from 1957 to 1991 and was President of the College from 1978 to 1991 during which time the College undertook major rebuilding. He was also the founder, in 2005, and organiser of the Gerioptics Group, a group of retired optometrists that had been much involved in professional affairs. (see Cat Nos 990, 1193, 1839, 2020, 2199). It met annually for lunch. He was elected an honorary life member of the College in 1976 and was also an honorary life member of Optometry Austraila. He was well remembered on his death with many senior members of the profession in attendance and an eulogy given at the funeral by Professor Emeritus Barry Cole.
Location:
Archive office. Pamphlet and ephemera filing cabinet. Drawer 7